How to Practice Gratitude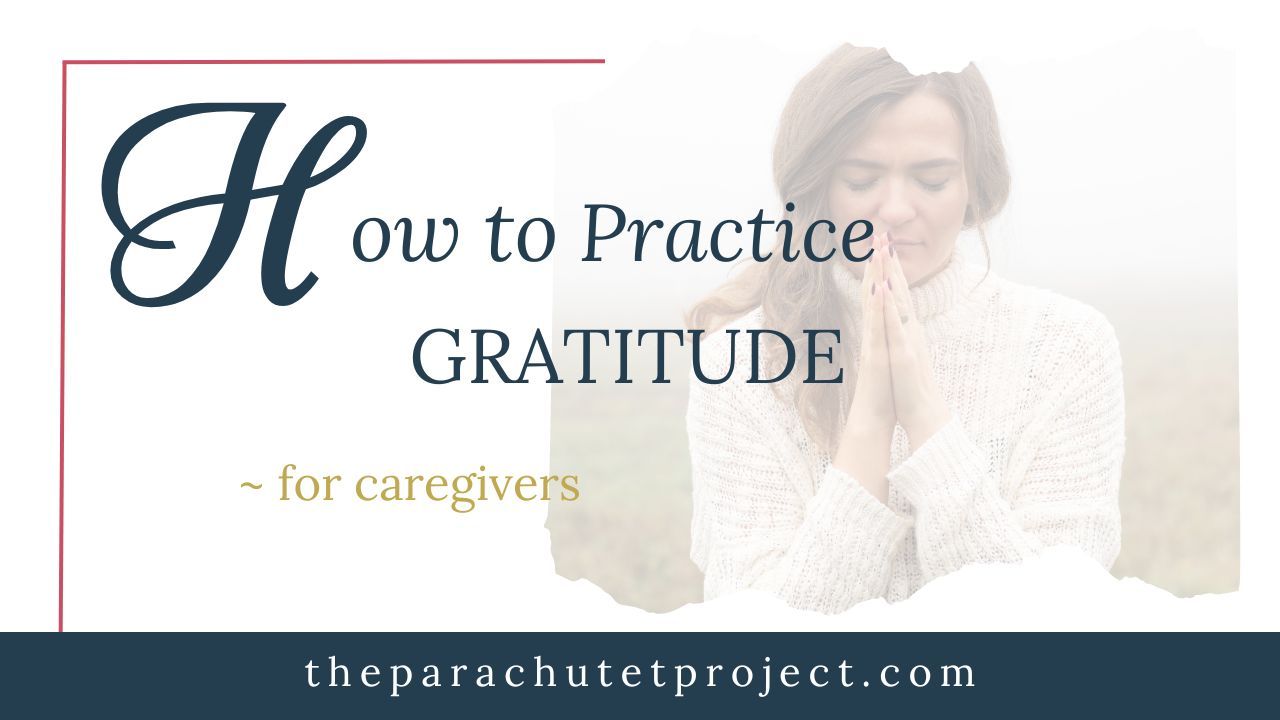 As parents and caregivers of children with complex care needs, there is always so much to think about. Our circumstances can make us feel overwhelmed with concern and worry. Sometimes, it can be difficult to think of anything to be thankful for, much less practice gratitude in our daily lives.
When we are so focused on the weight and uncertainty of our circumstances, it can feel as though our whole life, our whole existence, is swallowed up in darkness. It can be very hard to recognize that many of the blessings we enjoyed before, still exist and are waiting for us to notice.
Gratitude is a light that shines in the darkness and helps us to see the good that still surrounds us even if hidden in the shadows.
Sometimes, gratitude hits like a lightning bolt. Such as, when your child finally says words you have been praying to hear or takes steps you thought you might never see. In that moment, your whole world lights up with thankfulness for the gift that is your child and the privilege it is to be their everything.
But lightning strikes, as stunning as they are, are few and far between.
Fortunately, we do not have to wait for those spontaneous forces of nature to experience the impact of thankfulness on our well-being.
Gratitude has the power to positively influence just about every aspect of our health and wellness. Studies have shown that thankfulness has positive benefits on everything from our physical health to our mental wellness, even enriching our social relationships. Gratitude can boost resilience in the face of adversity by improving self-esteem while also reducing stress.
We can experience these powerful benefits, on our overall well-being, by making gratitude a daily practice. Just a few minutes spent reflecting on our blessings can help to redirect our focus and remind us that good still surrounds us, even when we lose sight of it.
Gratitude becomes the candle in the window. A proverbial flame of light that grounds us and instills that sense of security and consistency we always go back to when we feel lost and overwhelmed.
As good as all of that sounds, how can we realistically practice gratitude in a way that fits into our days under the heaviest of circumstances?
Below are five suggestions for how to practice gratitude, reflect on your blessings, and remember the good that surrounds you, even in your darkest days.
Gratitude Practice #1 – Gratitude Journal
While reflecting on your blessings is impactful all on its own, taking a few minutes to write down the reasons you have to feel grateful reinforces this perspective. The benefit of recording your daily practice is that it allows you to go back and be reminded of what you were most thankful for and when. This record allows you to see how your perspective has changed over time. A gratitude journal can be as simple as making some notes in your date book. You can also dedicate a separate journal or notebook specifically for this practice. Another option is to record your entries in an app on your phone.
Gratitude Practice #2 – Take a Picture a Day
An alternative to writing down your blessings is to take a picture of something you are thankful for every day. Looking for something good to document requires you to be more aware of your surroundings and the people you are with as you begin to focus more attention on moments as they happen. Eventually, the good becomes easier and more natural to recognize. Smart phones make it easier than ever to capture a photo or short video and to keep them organized and accessible to review at a later time.
Gratitude Practice #3 – Create a Gratitude Board
You are likely familiar with the concept of a vision board, a collection of pictures, notes, and inspiration which keep you focused on your goals. Similarly, a gratitude board keeps you focused on the things that bring you joy by providing reminders and momentos of treasured blessings. Collect pictures, letters, notes, and anything else that reminds you of those things you are most grateful for. Pin them to a pin board, wall, mirror or scrapbook. You could even collect pictures of these items in a photo folder or a private Pinterest board to keep them easily accessible when you are away from home. Spend a few minutes each day looking at your gratitude board and reflect on the blessings it represents. Add new items as they become relevant.
Gratitude Practice #4 – Say Thank You
Often, we take those we love the most for granted. Even when we deeply appreciate the things that our partner, for example, does to help us and to care for our family, we don't always express our appreciation out loud. Work on saying thank you whenever you feel gratitude for your partner, your children or others in your life who you appreciate.
This isn't always easy. Especially if it doesn't come naturally to you or if words of affirmations are not particularly important to you personally. It may feel awkward and forced in the beginning. You may feel like you are overdoing it with the "thank you's". However, who doesn't like to be acknowledged and appreciated? Making it a priority to express your gratitude to those you appreciate, forces you to recognize the love and support around you. It also nurtures your relationships. When others feel appreciated, they are more likely to support you again in the future, and to show appreciation for you in return.
Gratitude Practice #5 – Pay it Forward
After you have practiced gratitude for some time, you will begin to experience a positive transformation on your perspective and your circumstances. Often, when we have a strong perspective of thankfulness, and readily recognize the blessings around us, we feel drawn to bless others. In order to recognize what action we might take to support others, we often go back to our own experiences and, in doing so, reflect on those people, things and actions that have been a blessing to us. In this way, we can practice gratitude while also being a blessing to others.
I encourage you to choose just one of the options above, or one of your own choosing, to practice gratitude in your daily routine. As you do, gratitude will become more and more natural and the easier it will be to continue this self-care action into the months ahead.
---
Self-Care Action Discussed in this Post:
Choose just one of the suggestions above, or one of your own, to incorporate gratitude into your self-care practice, and enjoy the positive impact a mindset of thankfulness will have on your spiritual, mental, emotional and physical health.
---
Related Posts: